High Level Cleaning
High Level  Cleaning can be difficult for many companies to perform on their ceilings, exposed ductwork or rafters.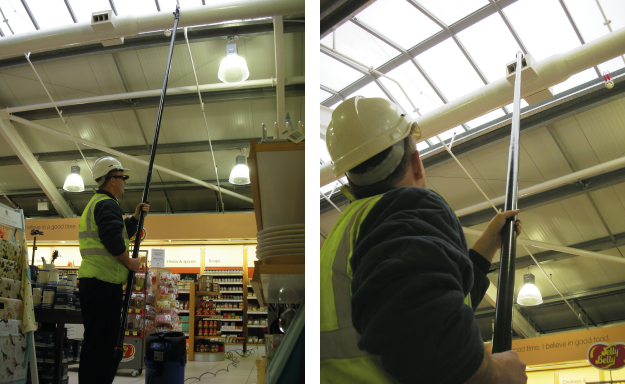 We recommend that you keep an annual budget aside for keeping on top of the high ledges that gather dust and look unsightly to visitors and your staff. Rosca provide  high level cleaning solutions for organizations and authorities throughout the UK. High level cleaning is a specialist cleaning services, and one of those vital tasks that you generally cannot risk allowing your own staff to undertake. A lot of our clients don't realise that when their ceilings accumulate dust and other sediment, it cannot only make their location look second rate, it could potentially create a health hazard. Rosca
High Level Cleaning
 specialises in removing dust, dirt and grime from these hard to reach places, so that your location can look exceptional and be as safe as possible. Our
High Level Cleaning
process restores and cleans your internal and external buildings including all contemporary cladding materials, glass, metal, aluminum, stainless steel, brick, stone and UPVC.
High Level Cleaning is needed to comply with the requirements of your insurance to reduce the fire risk to possible minimum by todays technical standard.
We have a dedicated trained group of cleaners who have the skills for High Level Cleaning and where necessary IPAF certificates for operating the required access equipment such as cherry pickers and scissor lifts but,
Most often
for Internal and External High Level Cleaning
we using a High Level Vacuum Cleaning fitted with on board wireless camera system for precision cleaning that will enable us to remove dust, debris, and cobwebs up to 48 feet.
A clean and safe working environment
Compliance with laws and regulations
Allows access to restricted areas
Improved quality of the finished product
More effective production
Management of resources and waste
Improved production up-time
Improved energy utilisation
FREE QUOTE
This is safe solution for cleaning high buildings such as Logistic and Distribution Centers, Manufactures, Warehouses, Restaurants, Retail Shoppings, Supermarkets, Hospitals, Churches, Offices and Domestic Properties, for the latest regulations and health and safety requirements. Whatever the method is, health and safety is always the main consideration at Rosca. We safely deliver top class results. In addition to our high level cleaning services our experienced staff can also undertake guttering and roof cleaning of any frequency in line with your business needs, allowing Rosca to be central in all your high level cleaning requirements. After your
High Level Cleaning
 is complete, the floors can then be scrubbed and dried to compliment your high level clean. We give your business the best possible
High Level Cleaning
every time and ensure it with our 100% satisfaction guarantee. For more information about our
High Level Cleaning solutions
or to arrange a free no-obligation estimate please contact us today on 0800 799 9149.